Basic Information
This mod contains 30 Cars from 24 Teams. It's a v1.0 but there maybe some bugs and mistakes left. Anyway I wish you great fun and please have a look at the readme – you will get some information about painting your own liveries and some other things 😉 Please be so kind and report any errors or mistakes you may find!
Package includes changed Templates, you can not use the default Toyota template which came with STCC2! Now a car viewer (for 3DSimEd) is included.
And of course you will need STCC2 to run this mod!
Credits:
Toyota Corolla and other 3D by Simbin
Skins by AlbersF1, Arne Heine, SkylineManning and FuNK!
Thanks goes to:
Simbin for the great game! AlbersF1 for his great skins!
Arne Heine for his donated skins with the unique design!
SkylineManning for his great donated skin (Team Petronas)!
nogripracing staff for hosting and giving place to paste great screens =)
and all I missed 😉
You can see the spotter guide here: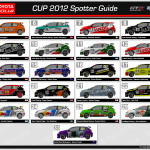 Download-Links